Chole Kulche is a popular street food dish that originated in North India. It is a perfect blend of spicy chickpeas and soft bread served with tangy tamarind or mint chutney. It is a must-try dish for anyone who wants to experience the authentic flavors of Indian cuisine.
In this blog, we will explore the history and origin of Chole Kulche, provide you with a detailed recipe, discuss the calorie content of the dish, and share some tips and tricks to make it perfectly.
Chole Kulche History & Origin:
Chole Kulche is believed to have originated in the streets of Delhi, but it has now spread to other parts of North India. It is a popular dish served for breakfast or as a snack.
Chole is a Hindi word for chickpeas, and Kulche is a soft and fluffy bread made of refined flour. The dish is usually served with a side of chopped onions, green chili, and tamarind or mint chutney.
Chole Kulche Recipe:
Ingredients:
2 cups of boiled chickpeas
2 tbsp oil (Use Healthy Cold Pressed Oil)
1 tsp cumin seeds
1 tsp coriander powder
1 tsp garam masala
1 tsp red chili powder (you can also use Mathania Chili Powder)
Salt to taste
2 cups of water
4 kulchas (or bread of your choice)
Chopped onions and green chili for garnish
Tamarind or mint chutney for serving
Instructions:
Heat oil in a pan and add cumin seeds. Let them splutter.
Add boiled chickpeas to the pan and stir well.
Add coriander powder, garam masala, red chili powder, and salt. Mix well.
Pour water into the pan and let the mixture simmer for 10-15 minutes until the gravy thickens.
Take the pan off the heat and let it cool down.
Heat the kulchas on a pan or tawa until they are slightly crispy.
Serve the chickpea mixture over the kulchas.
Garnish with chopped onions and green chili.
Serve with tamarind or mint chutney on the side.
Kulcha Bread Recipe:
Here is a recipe to make Kulcha bread at home:
Ingredients:
2 cups refined flour (maida)
1/2 cup yogurt
1 tsp sugar
1 tsp baking powder
1/2 tsp baking soda
1/2 tsp salt
1/2 cup milk
2 tbsp oil
Instructions:
In a mixing bowl, combine flour, baking powder, baking soda, sugar, and salt.
Add yogurt and mix well.
Slowly pour milk into the mixture and knead into a soft dough.
Cover the dough and let it rest for about 2-3 hours.
Preheat a tawa or griddle on medium heat.
Divide the dough into small balls.
Take one ball and roll it out into a round shape.
Brush one side of the kulcha with water.
Place the kulcha on the tawa, water side down.
Cook for 1-2 minutes or until the kulcha starts to puff up and brown spots appear.
Flip the kulcha and cook the other side for 1-2 minutes.
Brush the kulcha with oil and remove from the tawa.
Repeat the same process for the remaining dough balls.
Your homemade kulcha bread is now ready to be served with Chole or any other gravy-based dish. Enjoy!
Chole Kulche Calories: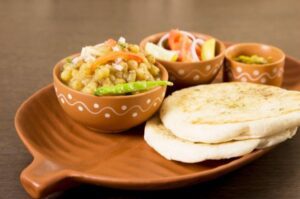 The calorie content of one serving of Chole Kulche can vary depending on the recipe and serving size. However, here is an approximate calorie breakdown for one serving of Chole Kulche made with the following ingredients:
Boiled chickpeas (1 cup): 269 calories
Refined flour kulcha bread (1 piece): 150-200 calories
Oil (1 tablespoon): 120 calories
Spices (coriander, cumin, garam masala, chili powder, etc.): 5-10 calories
Onion, green chili, and chutney for garnish: negligible calories
Based on these rough estimates, one serving of Chole Kulche would contain approximately 544-599 calories. However, this can vary based on the specific recipe and the amount of ingredients used. It is also important to note that Chole Kulche is a high-carbohydrate and high-fat dish, so it should be consumed in moderation as part of a balanced diet.
Chole Kulche Tips & Tricks:
Soak the chickpeas overnight to ensure they cook evenly and become soft.
Use a pressure cooker to boil the chickpeas if you're short on time.
Adjust the spice levels according to your preference.
Use fresh and homemade chutney for the best flavors.
Serve the dish hot to enjoy its true flavors.
Conclusion:
Chole Kulche is a delicious and easy-to-make street food dish that has won the hearts of people all over India. It is the perfect blend of spicy chickpeas and soft bread, and can be enjoyed for breakfast or as a snack. Follow our recipe and tips to make the perfect Chole Kulche, and experience the authentic flavors of Indian cuisine.