Description
Mathania, a region in Rajasthan, India, is renowned for its vibrant red chilies. The Mathania red chili is celebrated for its unique flavor profile that adds both heat and a distinct taste to dishes. Here's an exploration of the history, characteristics, and cultivation of this spicy ingredient.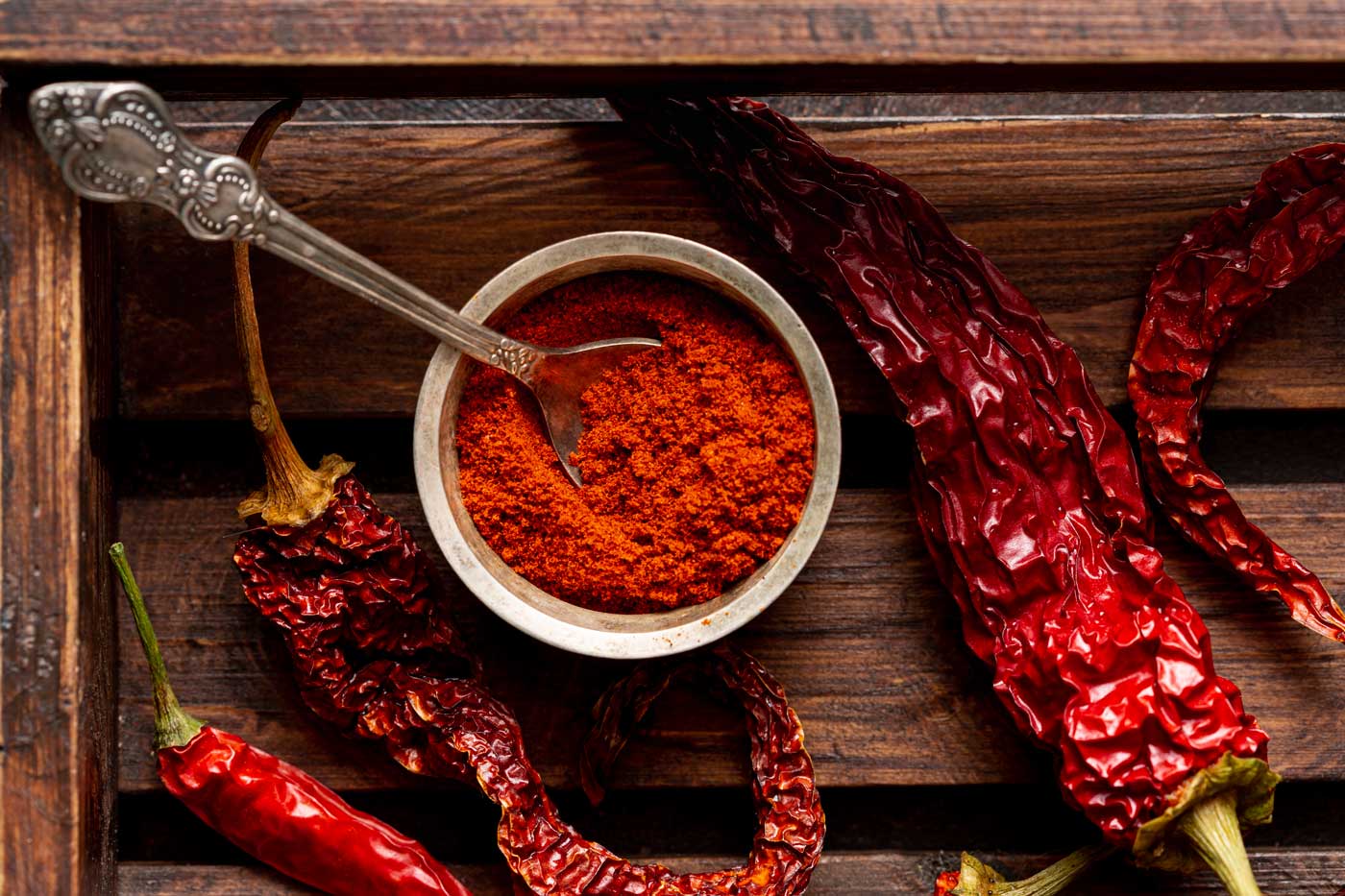 History and Origin of Mathania Red Chilli
Mathania

has a long-standing history of chilli cultivation, with the red chilli being integral to the region's identity.

The

Mathania red chilli

gained prominence for its use in traditional Rajasthani dishes.

It is believed that the chilli was introduced to the region centuries ago and has since become a symbol of Rajasthani cuisine.
The Unique Characteristics of Mathania Red Chilli
The

Mathania red chilli

is known for its bright red color, indicative of its freshness and quality.

Unlike other red chilies, the

Mathania

variant has a moderate heat level, which allows the flavor of the chilli to shine through without overpowering the dish.

The chillies have a thicker skin which makes them ideal for a range of Indian dishes.

Cultivation Practices in Mathania
The cultivation of

Mathania red chilli

is a meticulous process that requires specific climatic conditions, found in the Mathania region.

Farmers in

Mathania

employ traditional farming techniques passed down through generations to grow these chillies.

The chillies are typically sown in the month of May and harvested in the winter months, when they achieve their characteristic deep red hue.

Watch Mathania Mirch farming news
Why it is Famous
Unique flavor profile:

Mathania Chilli has a mild to medium heat level and a fruity taste, which is different from other types of chili and adds a unique flavor to dishes.

Rich color:

Mathania Chilli has a bright red color which adds vibrancy to dishes and makes them visually appealing.

High Capsaicin content:

Mathania Chilli has a high content of capsaicin, which is the compound responsible for giving chili its heat. This high content of capsaicin makes it a preferred choice for preparing spicy dishes.

Cultivation Method:

Mathania Chilli is grown using traditional methods, without the use of harmful chemicals and pesticides, which makes it a healthier option for cooking.

Regional pride:

Mathania Chilli has been a staple in the cuisine of the region for generations, and its production and use are an important part of the local culture and heritage.
 Due to these unique qualities, Mathania Chilli has gained popularity not only within India but also globally, making it one of the most sought-after chili varieties in the world.
Community Insights on Mathania Red Chilli
Key Benefits:
Flavor Enhancement:

It adds a burst of vibrant flavor and heat to your dishes, making them more exciting and delicious.

Metabolism Boost:

The capsaicin in red chilies can temporarily increase metabolism, potentially aiding in weight management.

Pain Relief:

Capsaicin may provide relief from certain types of pain, including arthritis and muscle aches, through topical application.

Rich in Nutrients:

Chilies are a good source of vitamins, minerals, and antioxidants, which can contribute to overall health.

Heart Health:

Some studies suggest that regular consumption of chilies may help lower blood pressure and reduce the risk of heart disease.

Digestive Health:

Spicy foods like red chilies may stimulate digestion and alleviate digestive discomfort for some individuals.

Mood Enhancement:

The release of endorphins triggered by spicy foods can improve mood and provide a sense of well-being.
We deliver Pure Ingredients:
100% pure and natural

Finely grounded to provide the perfect consistency

No artificial colors, preservatives or flavors added
Packaged in airtight containers to maintain freshness and aroma
Grown using traditional methods without the use of harmful chemicals.
Get a taste of the standard and authentic Indian cuisine with Mathania Red Chilli Powder.
FAQ Section: Understanding Mathania Red Chilli
How can I buy Mathania red chilli online?
You can buy mathania chilli from our online store.
What are the health benefits of Mathania red chilli?
Like other red chillies, Mathania red chilli is rich in vitamins A and C, which are known to boost immunity and improve skin health. Capsaicin, the compound that gives chillies their heat, is also believed to have anti-inflammatory and analgesic properties.
How is Mathania red chilli used in cooking?
Mathania red chilli can be used in various forms in cooking, including:
As a whole dried chilli to infuse dishes with its flavor.
Ground into a powder and used as a spice in marinades, curries, and sauces.
It is particularly famous for its use in the traditional Rajasthani dish.
What makes Mathania red chilli different from other chillies?
Mathania red chilli is distinct due to its:
Origin from the Mathania region, which gives it a unique terroir.
Moderate heat level that doesn't overpower the natural flavors of dishes.
Rich color and flavor profile that is sought after in gourmet cooking.
Can Mathania red chilli be shipped internationally?
Yes, we deliver international bulk orders. Contact us for international shipping.
How do you store Mathania red chilli for long-term use?
To store Mathania red chilli:
Keep it in an airtight container to protect it from moisture and preserve its flavor.
Store in a cool, dark place like a pantry or cupboard, away from direct sunlight.
Whole dried chillies will last longer than ground chilli powder.
Are there any recipes that specifically use Mathania red chilli?
Yes, there are several recipes that specifically call for Mathania red chilli, especially traditional Rajasthani dishes. One of the most famous is Laal Maas, a spicy mutton curry that showcases the chilli's robust flavor.
What is the heat level of Mathania red chilli?
Mathania red chilli has a moderate heat level. It provides a noticeable warmth and flavor to dishes without being overwhelmingly hot, making it suitable for a variety of palates.
How do I know if the Mathania red chilli I bought online is authentic?
To ensure authenticity when buying Mathania red chilli online:
Purchase from reputable sellers who provide product origin details.
Look for a geographical indication tag or certification, if available.
Check reviews and ratings from other customers regarding the product's authenticity.