Chicken Biryani: A Flavorful and Aromatic One-Pot Meal
Chicken Biryani is a classic and popular Indian dish that combines tender chicken with aromatic basmati rice and a blend of spices. It is a one-pot meal that is typically cooked with chicken, rice, and a mix of spices such as cumin, coriander, turmeric, garam masala, and others. It is a flavorful and satisfying dish that is often served with raita, a yogurt-based side dish, and is popular for its unique combination of flavors, textures, and aromas.
The History and Origin of Chicken Biryani
Biryani originated in India and is believed to have been brought to the region by the Mughals. Today, it is enjoyed across India and other South Asian countries and is also popular in other parts of the world, including the Middle East and the United Kingdom.
The Influence of Mughal Cuisine on Chicken Biryani
There are many variations of biryani, including vegetable biryani, lamb biryani, and others, but chicken biryani remains one of the most popular and well-loved dishes in India and beyond. Whether enjoyed as a family meal or as a special occasion dish, chicken biryani is sure to delight the taste buds with its spicy and aromatic flavors.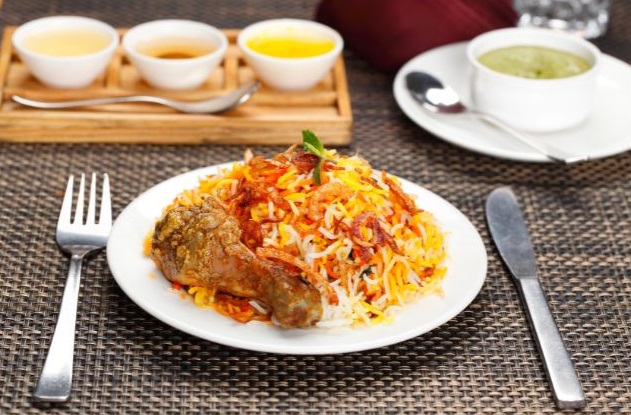 Chicken Biryani Recipe:
Here we are taking ingredients for Chicken Biryani Recipe for 4 people.
Ingredients for Chicken Biryani:
1.5 lbs boneless chicken, cut into bite-sized pieces
2 cups Basmati Rice
2 onions, chopped
4 cloves garlic, minced
1 inch ginger, grated
2 tomatoes, chopped
1 green chili, chopped
1 teaspoon cumin seeds
1 teaspoon coriander powder
1 teaspoon turmeric powder
1 teaspoon garam masala
Salt to taste
2 cups water
2 tablespoons ghee or Cold Pressed oil
Fresh coriander leaves for garnish
Lemon wedges for serving
Instructions:
Rinse the Basmati rice and soak in water for 30 minutes. Drain and set aside.
In a large saucepan, heat ghee or oil over medium heat. Add chopped onions and cook until soft and golden brown.
Add minced garlic and grated ginger and cook for another minute.
Add chopped tomatoes, green chili, cumin seeds, coriander powder, turmeric powder, garam masala, and salt. Cook until the tomatoes are soft and the spices are fragrant.
Add the chicken pieces to the pan and cook until browned on all sides.
Add the drained Basmati rice and 2 cups of water to the pan. Stir well.
Bring to a boil, reduce heat to low, cover the pan and cook for 15-20 minutes or until the rice is cooked and the water is absorbed.
Once done, turn off heat and let the biryani sit for 5 minutes.
Fluff the rice with a fork and serve hot with fresh coriander leaves and lemon wedges.
Enjoy your spicy and flavorful Chicken Biryani, perfect for a family meal or a special occasion!
Recipe of Chicken Biryani instant pot
Though if you want to taste the authentic aroma & taste of Chicken Biryani, the traditional method of cooking Chicken Biryani is the best, nowadays people are using new electric cooking gadgets like Instant Pots (Latest Smart Cooker/Electic Utensil) which claim to cook food with less oil/Fat and low-calorie dishes. Let's Learn how to prepare Chicken Biryani in Instant Pot.
Chicken Biryani in an Instant Pot is a quick and easy way to make this classic Indian dish at home. Here is a simple recipe for 4 servings:
Ingredients:
1 lb boneless chicken breast or thighs, cut into bite-sized pieces
2 cups basmati rice, rinsed and drained
1 large onion, chopped
1 tablespoon ginger-garlic paste
2 large tomatoes, chopped
1 cup frozen mixed vegetables (peas, carrots, corn, etc.)
2 teaspoons ground cumin
1 teaspoon ground coriander
1 teaspoon turmeric
1 teaspoon garam masala
1 teaspoon salt
2 cups chicken broth
2 tablespoons ghee or oil
1/4 cup fresh cilantro, chopped
1 lemon, cut into wedges
Instructions:
Set the Instant Pot to sauté mode and heat the ghee or oil.
Add the chopped onion and cook until softened, about 3-5 minutes.
Add the ginger-garlic paste and cook for 1 minute.
Stir in the chopped tomatoes, mixed vegetables, ground cumin, coriander, turmeric, garam masala, and salt. Cook until the tomatoes are soft and the mixture is fragrant, about 5 minutes.
Add the chicken pieces and stir to combine.
Add the rinsed basmati rice to the Instant Pot and stir to combine.
Pour the chicken broth over the rice and chicken mixture and stir well.
Close the lid of the Instant Pot and set it to manual mode for 12 minutes.
Allow the pressure to release naturally for 10 minutes, then quick release the remaining pressure.
Open the lid of the Instant Pot and fluff the rice with a fork.
Stir in the chopped cilantro and serve with lemon wedges on the side.
Enjoy your delicious and aromatic chicken biryani, made in a fraction of the time using your Instant Pot!
Chicken Biryani Calories:
The calorie content of chicken biryani varies based on the ingredients used and the portion size, but on average, a serving of chicken biryani can contain around 500-700 calories.
One serving of chicken biryani, typically around 1 cup (150-200 g), contains:
Rice: 250-350 calories
Chicken: 150-200 calories
Ghee or oil: 100-150 calories
Spices and seasonings: 50-100 calories
It's important to keep in mind that chicken biryani is a high-calorie dish and should be enjoyed in moderation as part of a balanced diet. To reduce the calorie content of chicken biryani, you can use less oil or ghee and choose leaner cuts of chicken, such as chicken breast.