Dahi Bhalla is a popular Indian street food, which is loved by many for its tangy and creamy flavors. It is a dish made with lentil dumplings soaked in yogurt and topped with chutneys and spices. Dahi Bhalla is one of the most satisfying and delicious chaat dishes that you can make at home. In this blog, we will explore the history and origin of Dahi Bhalla, provide a detailed recipe, explain how to make Dahi Bhalla Chaat, and also discuss the calorie count of this dish.
Dahi Bhalla History and Origin:
Dahi Bhalla is a dish that has its roots in the Indian subcontinent. It is believed to have originated in the northern part of India, particularly in the regions of Punjab and Delhi. The dish has evolved over time and has become a popular street food across the country.
Dahi Bhalla Recipe:
Ingredients:
For the lentil dumplings:
1 cup urad dal
1-inch ginger
2 green chillies
Salt to taste
Oil for frying (Use healthy cold pressed groundnut oil instead of refined oils)
For the yogurt mixture:
2 cups of yogurt
1/2 teaspoon cumin powder
1/2 teaspoon red chilli powder (use Mathania Chili Powder)
Salt to taste
Sugar to taste
For garnish:
Green chutney
Roasted cumin powder
Red chili powder
Chaat masala
Chopped coriander leaves
Method:
Soak urad dal in water for 4-5 hours.
Drain the water and grind the dal along with ginger and green chilies into a smooth paste.
Add salt to the batter and mix well.
Heat oil in a deep pan and drop small portions of batter into the oil.
Fry until the dumplings turn golden brown in color.
Soak the dumplings in water for 15-20 minutes.
Squeeze out the excess water and keep it aside.
Whisk the yogurt in a bowl.
Add cumin powder, red chili powder, salt, and sugar to the yogurt and mix well.
Dip the dumplings in the yogurt mixture and let them soak for a few minutes.
Arrange the dumplings in a serving dish.
Drizzle tamarind chutney and green chutney on top of the dumplings.
Sprinkle roasted cumin powder, red chili powder, and chaat masala over the dumplings.
Garnish with chopped coriander leaves.
Serve chilled.
Dahi Bhalla Chaat:
Dahi Bhalla Chaat is a variation of the traditional Dahi Bhalla recipe. It is made by adding different toppings to the dish, which enhances its taste and texture. You can add a variety of toppings to your Dahi Bhalla Chaat, such as finely chopped onions, tomatoes, and boiled potatoes. You can also add sev or crispy fried noodles to your dish for a crunchier texture.
Dahi Bhalla Calories: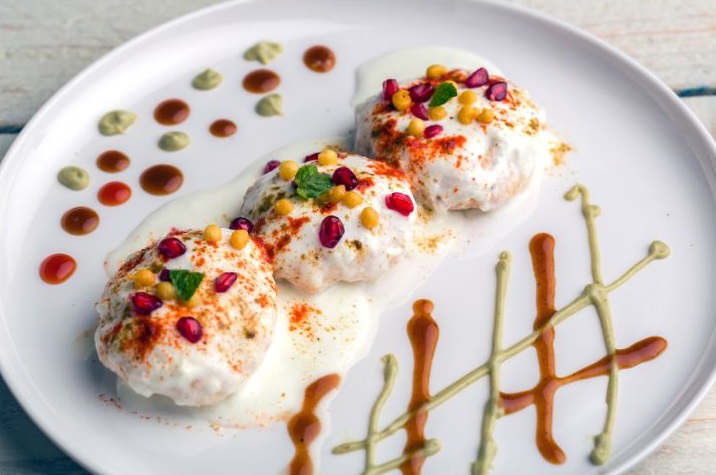 The calorie count of a serving of Dahi Bhalla can vary based on the ingredients and preparation method used. Here is a general breakdown of the calories in one serving (approximately 3-4 pieces) of Dahi Bhalla:
Lentil dumplings: 80-100 calories
Yogurt: 60-80 calories
Tamarind or mint chutney: 10-20 calories
Sev or boondi (toppings): 10-15 calories
Spices: negligible
Therefore, one serving of Dahi Bhalla can contain approximately 160-215 calories. This calorie count can vary depending on the amount and type of toppings used, such as adding more sweet or fried items. If you are looking to reduce the calorie count, you can opt for low-fat yogurt and air-frying or baking the dumplings instead of deep-frying them.
Tips and Tricks:
Soaking the dumplings in water helps to make them soft and juicy.
Use fresh yogurt and make sure it is whisked well to get a smooth consistency.
Adjust the spices and sugar in the yogurt mixture according to your taste.
To make the dumplings fluffy, do not over-grind the batter.
You can add a pinch of baking soda to the batter to make the dumplings airy.
Use a strainer or sieve to remove excess water from the soaked dumplings.
Add toppings and chutneys as per your preference to enhance the flavor of the dish.
To make the dish healthier, you can use low-fat yogurt and bake or air-fry the dumplings instead of deep-frying them.
Serve the Dahi Bhalla chilled for a refreshing taste.
Conclusion:
Dahi Bhalla is a delicious and creamy Indian street food that can be easily made at home. It has a rich history and has evolved over time into a popular chaat dish. With the right ingredients and tips, you can make a perfect bowl of Dahi Bhalla to satisfy your cravings. So, next time you want to indulge in some street food, try making Dahi Bhalla at home and relish its flavors.