Chocolate Cake Recipe
Rich History Of Chocolate Cake:
Chocolate cake has been a beloved dessert for centuries, with variations found all over the world. The first recorded chocolate cake recipe dates back to 1764, when Dr. James Baker discovered how to make chocolate by grinding cocoa beans between two massive circular millstones. Chocolate cake became even more popular in the 19th century when cocoa powder was introduced, making it easier and more affordable to make at home.
Chocolate Cake Recipe:
Chocolate cake is a beloved dessert that has been enjoyed for generations. While there are countless variations of this classic dessert, a good chocolate cake recipe should produce a moist, tender crumb and a rich, chocolatey flavor. Here's a recipe that yields a decadent, double-layer chocolate cake that is sure to satisfy any chocolate lover's cravings.
Chocolate Cake Ingredients:
2 cups all-purpose flour
2 cups granulated sugar
¾ cup unsweetened cocoa powder
2 teaspoons baking powder
1 ½ teaspoons baking soda
1 teaspoon salt
1 cup buttermilk
½ cup vegetable oil (Use Cold Pressed Oils)
2 large eggs
2 teaspoons vanilla extract
1 cup boiling water
Directions:
Preheat your oven to 350°F (180°C). Grease two 9-inch (23cm) round cake pans and dust with flour. Alternatively, you can use non-stick baking spray.
In a large mixing bowl, whisk together the flour, sugar, cocoa powder, baking powder, baking soda, and salt. Set aside.
In a separate mixing bowl, beat together the buttermilk, vegetable oil, eggs, and vanilla extract until fully combined.
Add the wet ingredients to the dry ingredients and mix together until fully combined. Slowly pour in the boiling water and stir until the batter is smooth.
Divide the batter evenly between the two prepared cake pans. Bake for 30-35 minutes, or until a toothpick inserted in the center comes out clean.
Remove the cakes from the oven and allow them to cool completely in the pans. Once cooled, remove the cakes from the pans and place one on a cake stand. Spread a layer of your favorite frosting over the top of the cake, and then place the second cake on top. Frost the top and sides of the cake.
Chocolate Cake Calories:
One slice of this chocolate cake (1/12 of the recipe) contains approximately 380 calories, 17g fat, 55g carbohydrates, and 5g protein. Keep in mind that the calorie count will vary depending on the type and amount of frosting used. Enjoy in moderation!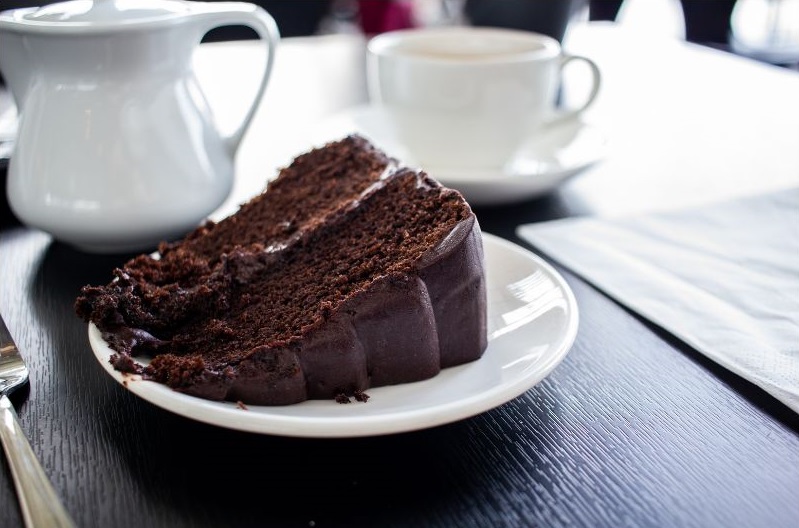 Chocolate Cake Calories Breakup:
Refer to the calorie breakdown for the chocolate cake recipe I provided earlier:
2 cups all-purpose flour: 800 calories
2 cups granulated sugar: 1600 calories
¾ cup unsweetened cocoa powder: 150 calories
2 teaspoons baking powder: 5 calories
1 ½ teaspoons baking soda: 5 calories
1 teaspoon salt: 0 calories
1 cup buttermilk: 110 calories
½ cup vegetable oil: 960 calories
2 large eggs: 140 calories
2 teaspoons vanilla extract: 24 calories
1 cup boiling water: 0 calories
Total calorie count for the cake batter: 3794 calories
When dividing the cake into 12 slices, each slice would contain approximately 316 calories from the cake alone. However, as previously mentioned, the calorie count will vary depending on the type and amount of frosting used.
The Evolution of Chocolate Cake: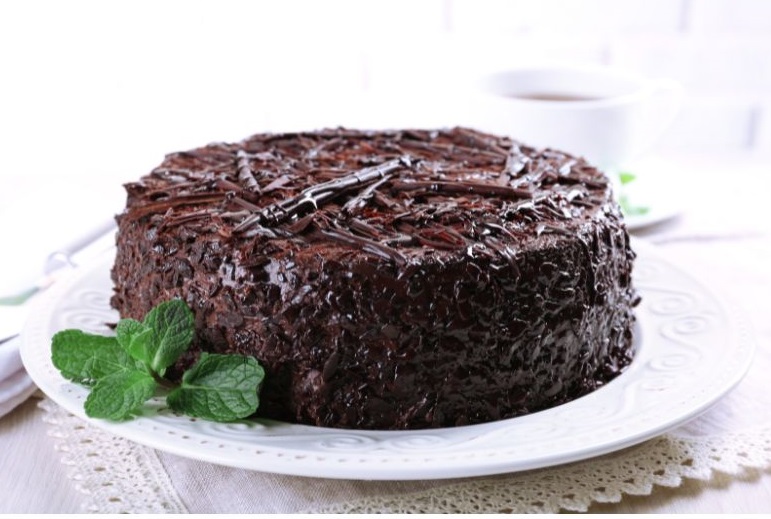 Over the years, chocolate cake has evolved and taken on many different forms. Some popular variations include flourless chocolate cake, black forest cake, and molten chocolate cake. Additionally, chocolate cake has been adapted to accommodate dietary restrictions, with vegan, gluten-free, and dairy-free options now widely available.
In conclusion, the history and evolution of chocolate cake have contributed to its popularity and timeless appeal. Whether you're indulging in a classic chocolate cake recipe or exploring one of its many variations, there's no denying that this dessert is a beloved and decadent treat.
Tips & Tricks:
Here are some additional tips and tricks to keep in mind when making a chocolate cake:
Room temperature ingredients: Be sure to use room temperature ingredients, especially the eggs and buttermilk. This will help the ingredients mix together smoothly and create a tender, moist crumb.
Sifting: Sift the dry ingredients together to ensure there are no lumps or clumps in the mixture. This will also help the cake rise evenly.
Boiling water: The addition of boiling water to the batter might seem unusual, but it helps to create a smooth, velvety texture and enhances the chocolate flavor.
Baking time: Keep an eye on the cakes as they bake, and don't be afraid to use a toothpick to test for doneness. If the toothpick comes out clean, the cakes are done. If it comes out with batter or crumbs, bake for a few more minutes.
Frosting: While you can use any frosting you like, classic chocolate buttercream is a popular choice. For a more sophisticated twist, try adding a pinch of sea salt to your frosting. It enhances the chocolate flavor and adds a subtle crunch.
Storage: Store the cake covered in the refrigerator for up to 4 days. Let it come to room temperature before serving for the best texture and flavor.
With these tips in mind, you'll be well on your way to creating a delicious, crowd-pleasing chocolate cake. Happy baking!